• Behind the scenes • Concrete • Concrete Jewelry • Design • jewelry design • Process • Wabi sabi
Hi there, So, what is Wabi-Sabi? And why do I care? Well, here is the what (I will get to the why after): Wabi-Sabi is a Japanese world view centered on the acceptance of transience and imperfection. When it comes to aesthetics, it is about the beauty of change, the beauty of the ordinary, of the small details. Thus making us appreciate the fluidity of life itself. Usually, when we think of Wabi-Sabi we visualize something rustic, unfinished or tainted, changed if you will, by time and the elements. Take a look at the wall in this picture for example....
---
• Behind the scenes • Concrete • Concrete Jewelry • Jewelry • Process • Studio • Video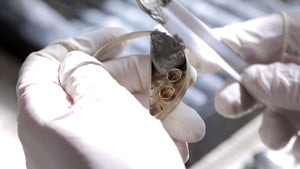 Working with unconventional materials makes it perfectly normal that I get a lot of questions about my process.
In an attempt to answer these questions I created a short video documenting the process of adding concrete to silver and gold jewelry.