• Behind the scenes • Concrete Jewelry • Studio • Video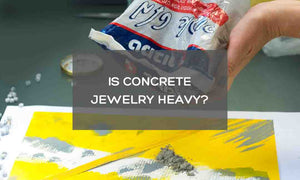 When it comes to concrete jewelry, one question that often arises is whether or not these pieces will be heavy to wear.
The answer: not at all. Concrete jewelry is very lightweight
One thing that is important to note that concrete is actually a lighter material than metal, so a piece of concrete jewelry of the same size as a piece made entirely of silver would actually be lighter in weight.
This is because concrete contains small, air-filled pores, which give it a lighter overall density. While we may typically think of concrete as a heavy material it is a trick our minds play on us because concrete is used in the construction of buildings, bridges, and other large structures.
---
• Behind the scenes • Concrete • Concrete Jewelry • Jewelry • Process • Studio • Video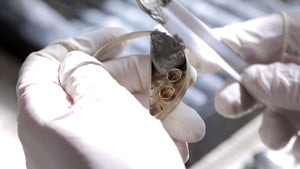 Working with unconventional materials makes it perfectly normal that I get a lot of questions about my process.
In an attempt to answer these questions I created a short video documenting the process of adding concrete to silver and gold jewelry.