• Design • jewelry design • Process
Hi there, It's election day here in Israel. None of the parties are an exact fit to my world view, so I had to make choices. I had to check my values, and consider each of them against the values of the possible parties from which I had to choose. It was about choosing the most important values. Those that will ensure a democratic compassionate future for our neck of the wood. When designing a new piece of jewelry, I always go back to the core values of BAARA Jewelry. Minimal Well designed and well made Handmade Eco friendly and...
---
• Behind the scenes • cocnrete jewelry • Design • inspiration • jewelry design • jewelry story • Process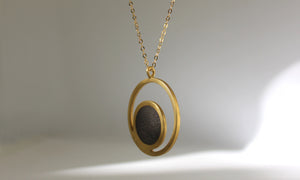 This is a very meaningful necklace for me. I thought I would share with you how this piece came to life. In this photo: the orbit concrete necklace in gold. Photo credit: Baara Guggenheim I designed this minimal necklace when my sister finally got pregnant. She tried to get pregnant for a long time, so it was a big moment. As cliché as it may be, motherhood is very important to me. It changed my life. It transformed me as a person and made me grow and become a better person. It still does. It grounded me and made me...
---
• Behind the scenes • Concrete • Concrete Jewelry • Design • jewelry design • Process • Wabi sabi
Hi there, So, what is Wabi-Sabi? And why do I care? Well, here is the what (I will get to the why after): Wabi-Sabi is a Japanese world view centered on the acceptance of transience and imperfection. When it comes to aesthetics, it is about the beauty of change, the beauty of the ordinary, of the small details. Thus making us appreciate the fluidity of life itself. Usually, when we think of Wabi-Sabi we visualize something rustic, unfinished or tainted, changed if you will, by time and the elements. Take a look at the wall in this picture for example....
---
• collaboration • Concrete Jewelry • Design • design exhibition • Handmade • maker • Process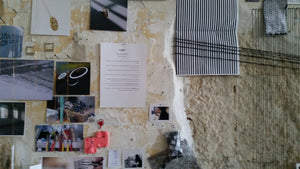 Hi friends, Since I am working with my hands all day long, and am proud that one of the core values of my business is the meticulous handmade process, I am often faced with issues regarding mass production vs. handmade small series process. This issue was the beginning point of an exhibition I presented in collaboration of my studio partner Adi Yair (a weaver and fashion designer) at the Design week of Jerusalem 2018 last month.  We asked ourselves several questions: Can design and conservatism co-exist? Or is design based, by its very definition, on innovation? Is there a...
---
• Behind the scenes • Concrete • Concrete Jewelry • Jewelry • Process • Studio • Video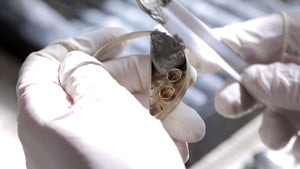 Working with unconventional materials makes it perfectly normal that I get a lot of questions about my process.
In an attempt to answer these questions I created a short video documenting the process of adding concrete to silver and gold jewelry.