• Design • Ideas • inspiration • Minimal Jewelry • Minimalism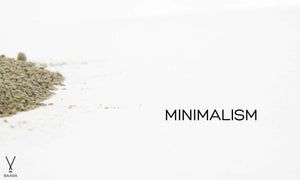 What is minimalism? Ever since I started designing minimal jewelry three years ago, I kept asking myself that question. Intuitively I knew what that meant, but it felt like I needed to further understand it in order to be able to fully stand behind the rather big announcement (for me at least) that BAARA Jewelry offers minimal jewelry designs. In my journey to investigate what it meant to be offering minimal jewelry, I went to my friends and asked them what minimalism represented for them. I asked them to tell me what they thought minimalism meant. I wanted them to share...
---
• inspiration • Life • Slow Living • Wabi sabi
It is the action of choosing to wear a certain piece of jewelry that makes it yours. It is how you turn it into a part of you. It is about slowing down and paying attention to what you are wearing and how it affects you. Every time you wear a necklace, or a ring, you are reminded of the experiences of the previous times you wore it, of the occasion for which you bought it or received it, and so it retains new, deeper, meaning. It becomes part of your experience, of who you are. Changing, just as you yourself change. It changes both physically, through the contact with your skin and the environment  that surrounds you, as well as spiritually, retaining new memories. It becomes part of the identity you present to the world and to yourself. It becomes part of your story.  Wearing a necklace, a ring, or an earring, over and over again, for years and years, turns it into part of the personality you choose to show to the world, part of who you are.
---
• Behind the scenes • cocnrete jewelry • Design • inspiration • jewelry design • jewelry story • Process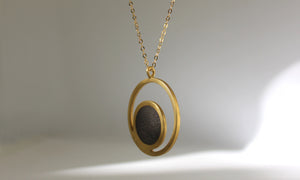 This is a very meaningful necklace for me. I thought I would share with you how this piece came to life. In this photo: the orbit concrete necklace in gold. Photo credit: Baara Guggenheim I designed this minimal necklace when my sister finally got pregnant. She tried to get pregnant for a long time, so it was a big moment. As cliché as it may be, motherhood is very important to me. It changed my life. It transformed me as a person and made me grow and become a better person. It still does. It grounded me and made me...