• Concrete Jewelry • Design • Geometric Jewelry • jewelry design • jewelry story • Minimal Jewelry • New Collection • Squares
Hi there,        Finally. It's here. A long overdue new concrete jewelry collection. The timing This collection took its time to appear. I created the first pieces of it almost a year ago, and still, I hesitated with the launch, took my time. I tested each piece for durability and comfort by wearing them myself, letting friends and family wear them and report back to me on their experience. Only now, when I am 100% sure each necklace, ring and earring will sustain heavy use and stay as beautiful as on the first time they were worn, I am putting...
---
• Behind the scenes • cocnrete jewelry • Design • inspiration • jewelry design • jewelry story • Process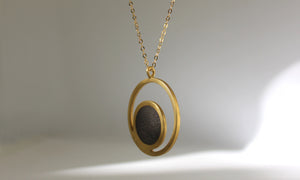 This is a very meaningful necklace for me. I thought I would share with you how this piece came to life. In this photo: the orbit concrete necklace in gold. Photo credit: Baara Guggenheim I designed this minimal necklace when my sister finally got pregnant. She tried to get pregnant for a long time, so it was a big moment. As cliché as it may be, motherhood is very important to me. It changed my life. It transformed me as a person and made me grow and become a better person. It still does. It grounded me and made me...